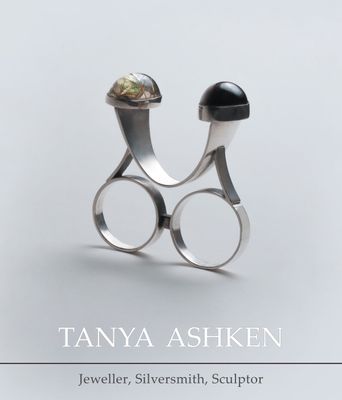 * Tanya Ashken: Jeweller, Silversmith, Sculptor
$50.00
Christmas SPECIAL $35 (normal RRP = $50)
Tanya Ashken: Jeweller, Silversmith, Sculptor
ISBN: 978-0-473-34964-6

256 x 220 x 16 mm (0.7kg)




This publication, the first major survey of Tanya Ashken's work, features ninety of her silversmithing and jewellery pieces and 66 sculptures.




Three writers have contributed essays, each focusing on a different aspect of Tanya's life. Lesleigh Salinger presents a concise biography of her life and works, while Philip Clarke looks at a life shared between Tanya and her husband, John Drawbridge. Damian Skinner's piece examines how Tanya's work fits into the New Zealand arts and crafts scene.




Born in London in 1939, Tanya was educated at Bedales, a coeducational boarding school in Hampshire, where craft and academic subjects were taught with equal emphasis.There she spent a lot of time in the wood and metal workshop, gaining her silversmithing hallmark at 13 years old.




In 1963 she moved with John, a New Zealander, to Wellington where many silversmithing and jewellery commissions were awarded, notably a silver and greenstone Bishop's crosier
for Nelson Cathedral and a NZ Arts Council gift of a silver and amethyst pendant, which was presented to Princess Anne on her 1970 tour of New Zealand.




Sculptural works, constructed from steel and cement, carved out of stone and wood or built from wire and plaster of Paris, then cast in bronze and aluminium, complete Tanya's oeuvre. Her most recognizable work being Albatross, the 3.5 meter high water sculpture,
on Wellington's waterfront (which gave rise to the establishment of the Wellington Sculpture Trust in 1986).
SKU: 10000